Online German Lessons
Free Course For Beginners (A1)
If you're looking for online German lessons for beginners, why not try out our free course? We will soon have a range of German lessons available here, feel free to explore.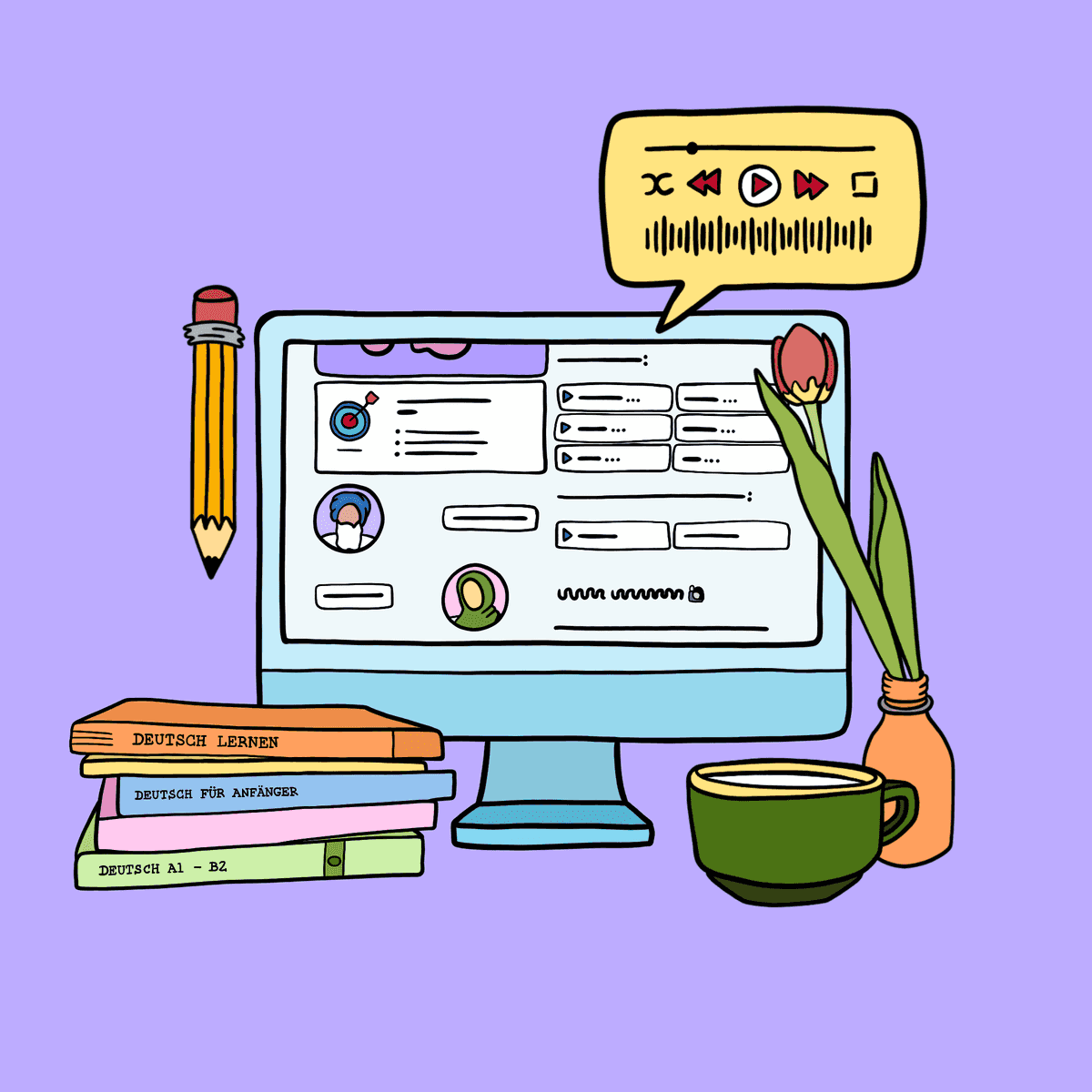 Free Online German Lessons (A1, A2)
Learning German can be a challenging but rewarding experience, especially if you plan on traveling to Germany or other German-speaking countries. However, paying for expensive language courses or hiring a private tutor can be prohibitive for many people. Fortunately, there are plenty of free online resources available that can help you learn German without breaking the bank. In this blog post, we'll take a look at some of the best free online German lessons and resources that you can use to improve your language skills.
Duolingo
Duolingo is one of the most popular language-learning apps in the world, and for good reason. It offers a fun, gamified approach to learning German, with a variety of exercises that focus on vocabulary, grammar, and listening comprehension. Plus, it's completely free to use, although there is an option to upgrade to Duolingo Plus for additional features.
Deutsche Welle
Deutsche Welle is Germany's international broadcaster, and it offers a wealth of resources for anyone interested in learning German. Its website includes a variety of multimedia content, including news articles, podcasts, and videos, all of which are designed to help learners improve their German skills. Additionally, Deutsche Welle offers a free online course called "Nicos Weg," which follows the story of a young man named Nico as he travels through Germany and learns the language.
Memrise
Memrise is a language-learning app that uses mnemonics and gamification to help users memorize vocabulary and grammar concepts. It offers a wide range of German courses, including ones focused on specific topics like business or travel, and it also includes a feature that allows users to create their own courses. While Memrise is free to use, there is a paid version called Memrise Pro that offers additional features.
Lingoda
While Lingoda is primarily a paid language-learning platform, it does offer a limited number of free classes for new users. These classes are taught by qualified language teachers and cover a range of topics, including grammar, vocabulary, and conversation. While you won't be able to take unlimited classes for free, this can be a great way to get started with learning German in a structured, guided environment.
Goethe-Institut
The Goethe-Institut is a cultural institution that promotes the German language and culture around the world. It offers a range of free resources for German learners, including online courses, language tests, and cultural events. Additionally, the Goethe-Institut operates language schools around the world, so if you're interested in taking in-person classes, this can be a great option.
YouTube
YouTube is a treasure trove of free German lessons and resources. There are countless channels dedicated to teaching German, from individual language tutors to larger organizations like the BBC. Some popular German language YouTube channels include "Learn German with Anja," "Easy German," and "Deutsch für Euch." Additionally, there are plenty of German-language TV shows and movies available on YouTube, which can be a fun way to practice your listening comprehension.
Support us by sharing this page
Subscribe 👇
Yes, send me
curious resources
,
free texts
&
useful tipps
for learning German.