German Children's Books
15+ Easy Peasy Kids Novels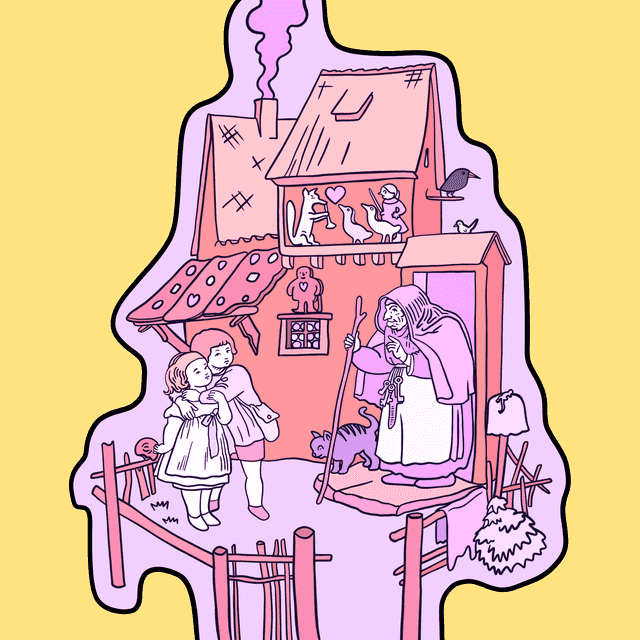 Reading German children's books can be a fantastic way to ease yourself into native content, as they are short, rewarding and accessible!
If you're looking for easy German texts to read, but cannot yet tackle intermediate German novels, children's literature or teen fiction might be a great start.
Children's books can help make language learning easier in a number of ways, from helping you to increase your knowledge of German idioms and vocabulary, to providing an enjoyable and entertaining way to practice your German.
Additionally, unlike with normal German beginner books, children's books often contain simple language and clear illustrations that make understanding the content easier, meaning you can get more out of the reading experience.
Easy German Children's Books
Let's first have a look at some German children's books classics, that were originally published in German. After these first 6 books, we're also going to have a look at children's book that were not originally published in German, but that were translated into German and became very popular in Germany.
Lastly, we're going to look at German young adult fiction and in the very end of this article we'll show you two children's books classics, that might seem a bit cruel in 2023.
Let's begin!
1. Emil & die Detektive
A list of the best German children's books has to include at least one novel by Erich Kästner: The question was whether to pick Pünktchen & Anton, Das fliegende Klassenzimmer or Emil & die Detektive. We chose the latter, but it wasn't an easy choice!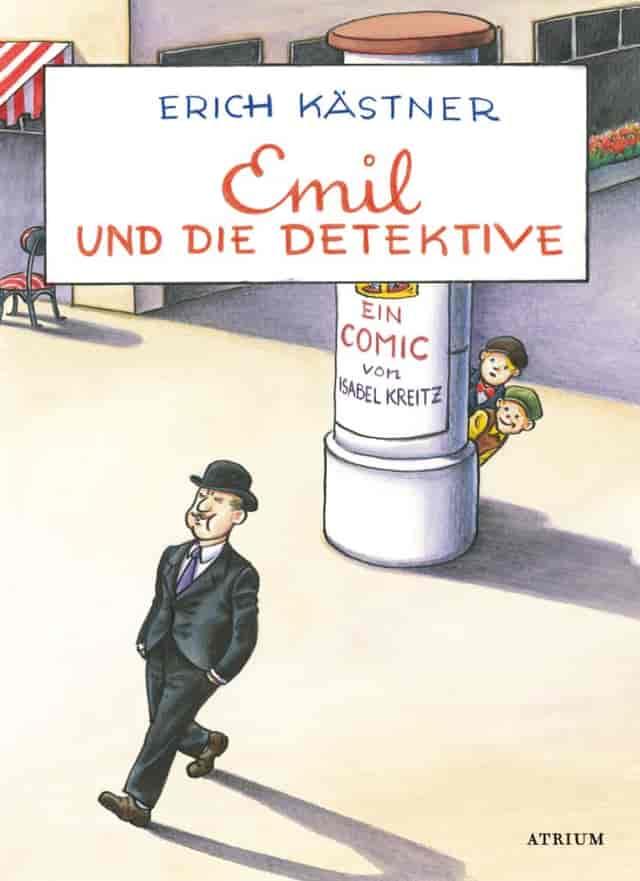 Emil und die Detektive
Erich Kästner
A story full of humour and the spirit of adventure, 'Emil & die Detektive' follows a twelve-year-old boy, as he navigates Berlin with his new friends, to find the thief that stole his money.
Twelve-year-old Emil leaves his hometown to visit relatives in Berlin for the first time, all alone.
When the money his mother gave to him, intended for his Grandmother, is stolen on the train, he resolves to find the thief himself. As he navigates the big city, he makes friends, who help him scour Berlin for clues. Together, they're determined to get Emil's money back.
It's a really solid mix between a children's book & a light detective novel. If you read this book and end up liking it, make sure to also check out Pünktchen & Anton or Das fliegende Klassenzimmer, also by Erich Kästner.
2. Janosch
Janosch's children's books are absolute staples here in Germany, with the most popular work being the story book Oh wie schön ist Panama - an illustrated picture book for very young children.
What we'd like to present to you now is different though: This next book by Janosch is not so well known, but a really heartwarming German children's book and ideal for language learners, since it contains less illustrations and lot more text (compared to his other books, that is). It's called: Der Mäusesheriff.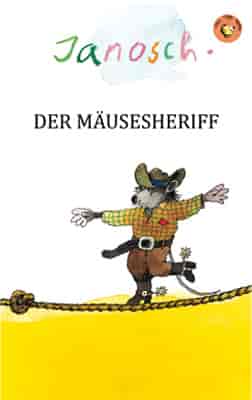 A mouse dressed in cowboy hat and boots shows up in town one day, to share the stories of his action-packed adventures as a mouse-sheriff in the Wild West 🐭. One of many well-loved children's books by Janosch, his most well known is: 'Oh wie schön ist Panama'.
A sweet and uplifting parody of the Wild West, der Mäusesheriff, clad in boots and a cowboy hat, shows up at the mouse town of Katzelbach one day, unannounced, ready to share the tales of his adventures with anyone who'll listen.
Little do they know that the cheeky mouse has made everything up, and his true abilities are put to the test, when Bimsel the cat interrupts the storytelling, hungry for dinner.
3. Das Sams
This book is one of a series of children's books, about a curious creature named "Sams" - a cheeky creature, with coarse red hair, blue freckles and frog feet.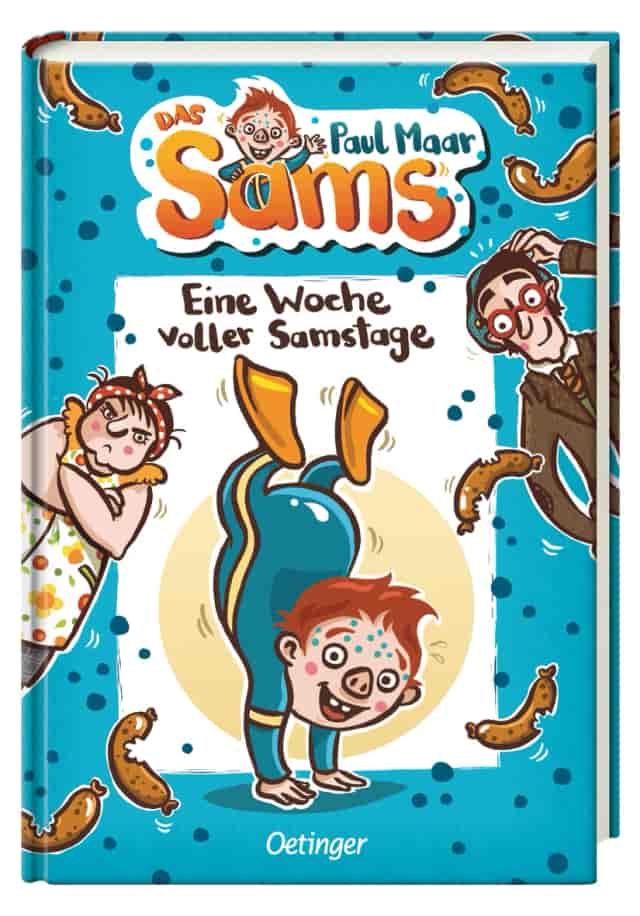 Eine Woche voller Samstage
Paul Maar
When a strange, cheeky creature magically appears in Mr Taschenbier's home, he's seen as a nuisance and efforts are made to get rid of him. However, as time passes, they begin to have fun together, developing an unlikely friendship.
One Saturday, Sams appears, unannounced, in the home of Mr Taschenbier- an unremarkable, timid man, who had - until then - lived an unremarkable, timid life.
Although things are unpleasant to begin with, soon the two begin an unlikely friendship, and learn valuable life lessons from each other.
There is also a film version of this book, for those interested!
4. Momo
Momo is a classic (together with Michael Ende's "Neverending Story"), but written for children & teenagers who aren't reading the very easy stuff anymore.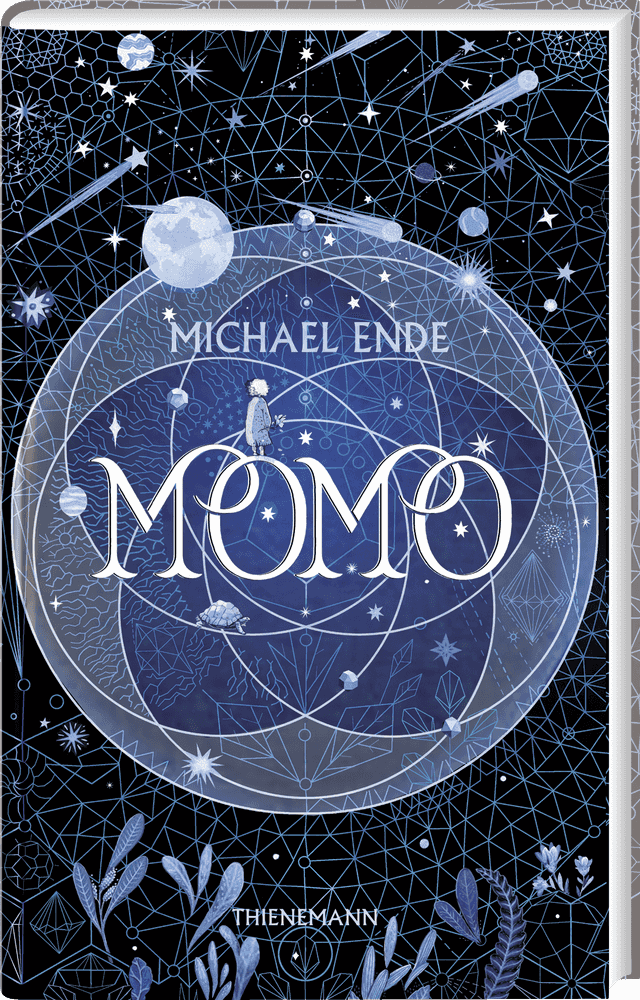 A fascinating story about the concept of time, and how it may be harnessed and willfully given away by those happy to accept a perceived sensible life, void of any imagination or participation in childish, time-wasting activities such as reading, playing, or painting. Momo is about the modern day dark side of adulthood.
A lively city is visited by the mysterious Men in Grey, who encourage its citizens to adopt the idea of timesaving - putting time away in the bank, in order to collect it later with interest.
As a result of their influence, more and more citizens give up on social activities, art, and even sleeping… anything deemed unnecessary, for the sake of saving time.
Life becomes dull and joyless for the citizens. Worse than that- they don't even know that the Men in Grey have deceived them... It's up to Momo - a little girl, to find the stolen time, and give it back to the people.
There's also an audiobook available for "Momo", if you're interested!
5. Grimms Märchen
Would this list be complete, without including one of the most culturally significant children's books in, not only German speaking countries, but the world? Grimms Märchen
die Gebrüder Grimm
a 19th Century children's book, full of hundreds of folk and fairy tales that had been collected from all over the country, including classics like 'Rapunzel' and 'Hansel und Gretel'.
The Grimms Märchen book is famously composed of hundreds of folktales that had been collected from all over the country, serving to reflect the values and norms of society at the time, packaged in fantastical narratives involving fairies, magic, elves and witches.
6. Krabat
This book follows the adventures of fourteen-year-old orphan, Krabat.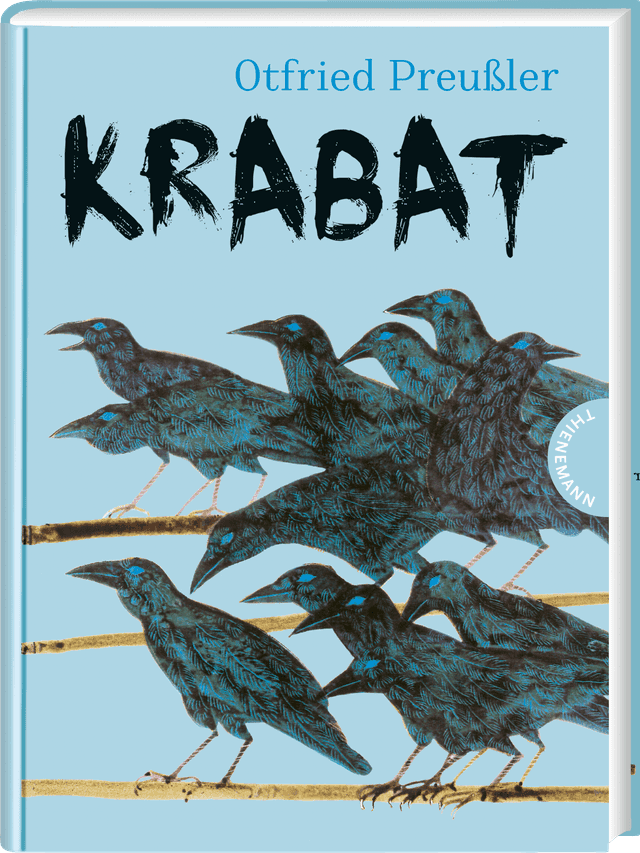 A book about how one young boy navigates danger and temptation as he learns to manage his newly acquired power. Preußler also wrote the German children's book classics: 'Die kleine Hexe', 'Der Räuber Hotzenplotz' and 'Das kleine Gespenst'.
His journey begins at a school of black arts, where he learns black magic, and marvels at his newly acquired power. As time passes, however, he slowly realises that he has unknowingly entered into a deadly game.
It becomes clear that only love can save him, and through this development, Preußler explores the dangers and temptations that come with power, and the importance and influence of love.
German Children's Books (Translations)
While many of the children's books in this list are written by German authors, we also wanted to include authors that are popular in Germany, even though the books themselves were not originally written in German.
Who would want to leave out "Harry Potter" from a blog post on children's books for language learners? Or "The little prince"? Nobody could be so cruel! They are a staples in the libraries of language learners all over the world. So here we go:
7. Sofies Welt
(Originally published in Norwegian, translated by Gabriele Haefs)
Sofies Welt
Jostein Gaarder
This fascinating book wraps a children-friendly history of philosophy in a narrative bursting with imagination.
This book follows the life of a teenage girl named Sofie, who learns about the history of philosophy from her teacher, Alberto Knox, before both realising that they are fictional characters in a book.
In order to escape the control of the book's author, they form a plan to enter into the real world.
8. Der kleine Prinz
(Originally published in French, translated by Hans Magnus Enzensberger)
This classic novella is a language learning staple, extremely popular in the language learning community!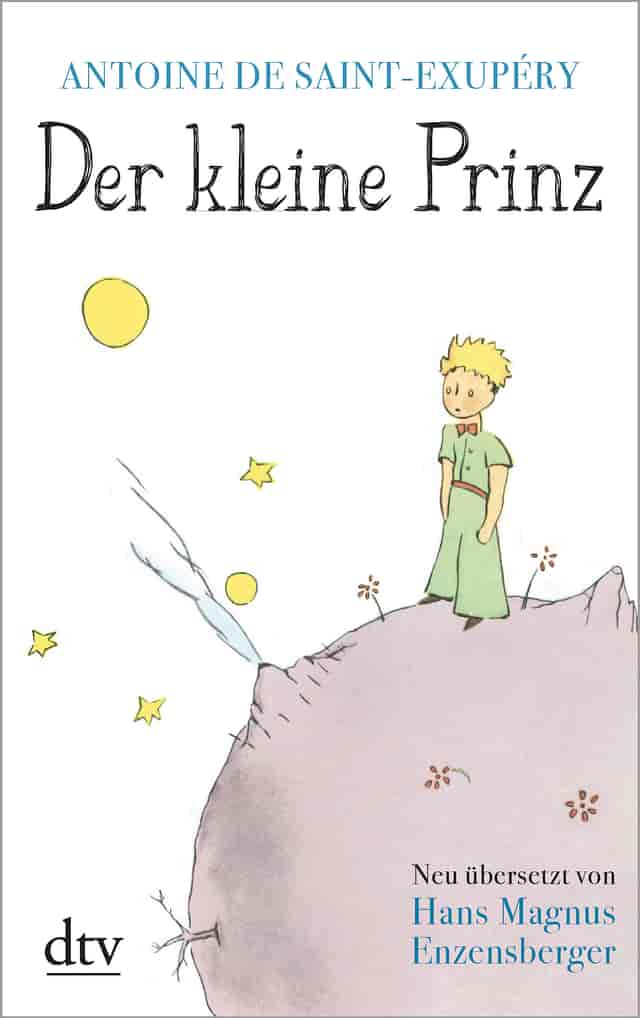 Der kleine Prinz
Antoine de Saint-Exupéry
This story, at face value, follows the life of the little prince, describing his home, his love, and the adults he has met on his journeys. However, on closer inspection, it serves another purpose: to explore human nature and the difference between child- and adulthood.
The story follows the narrator, who meets a boy called 'the little prince', who tells him about his life; about the asteroid he lives on, the rose he fell in love with, and the narrow-minded adults he met before travelling to Earth.
The book explores themes such as love, loss and loneliness, and shares interesting perspectives on human nature and the differences between children (imagination) and adults (realism).
9. Harry Potter
(Originally published in English, translated by Klaus Fritz)
This celebrated children's book is a particular favourite amongst language learners, as many already know the storyline, having read the books series or watched the films as a child.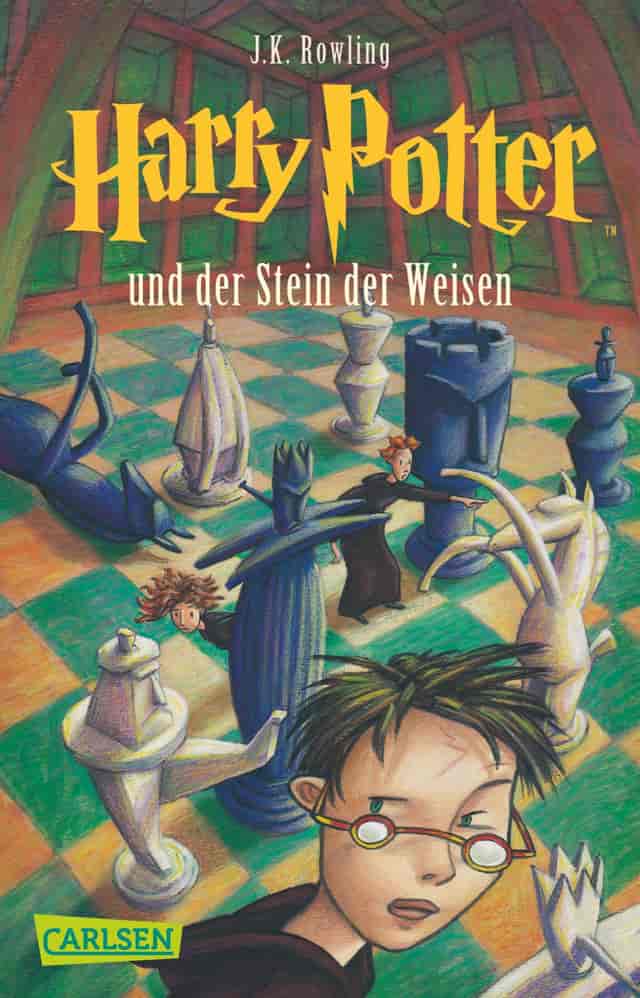 Harry Potter und der Stein der Weisen
J. K. Rowling
The first book of a widely-read and beloved series, full of magic and mystical creatures, 'Harry Potter and the Philosopher's Stone' explores the beginning of a young boy's adventures at Hogwarts School of Witchcraft and Wizardry.
Language learners may find this advantageous as they're less likely to get confused or overwhelmed.
10. Pippi Langstrumpf
(Originally published in Swedish, translated by Cäcilie Heinig)
Pippi Langstrumpf is widely read (and watched) in Germany, and this first book about the title character, introduces Pippi as living in a small town with her monkey and pony.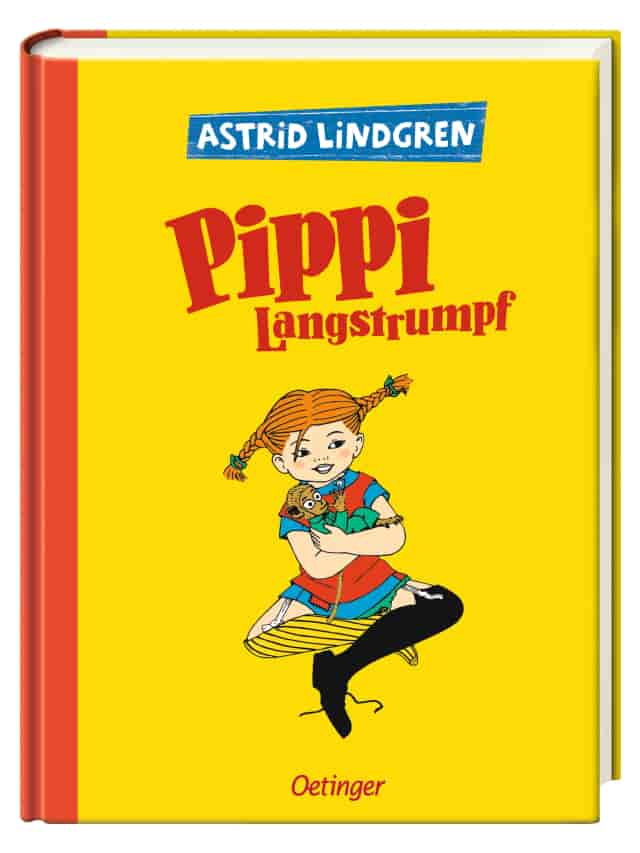 Pippi Langstrumpf
Astrid Lindgren
Pippi Langstrumpf is a peculiar little girl, living off of the gold coins that fill her suitcase, with her unusual flatmates - a pony and a monkey. Together with her friends, she sets off on a number of adventures in the small town where she lives, using her quick wit to outsmart the pesky adults in her way.
She sets off on a different adventure in every chapter, accompanied by her friends Thomas and Annika, and equipped with an unpredictable nature, hot temper and superhuman strength, that makes the adventures all the more unpredictable!
German YA Literature
11. TKKG Series
This well-loved, children's favourite follows the adventures of four young friends, as they solve criminal cases together, in their city.
The cases usually deal with themes related to young people, including alcohol and drug abuse, partying and friendship - particularly useful for German learners interested in adding to their vocabulary bank.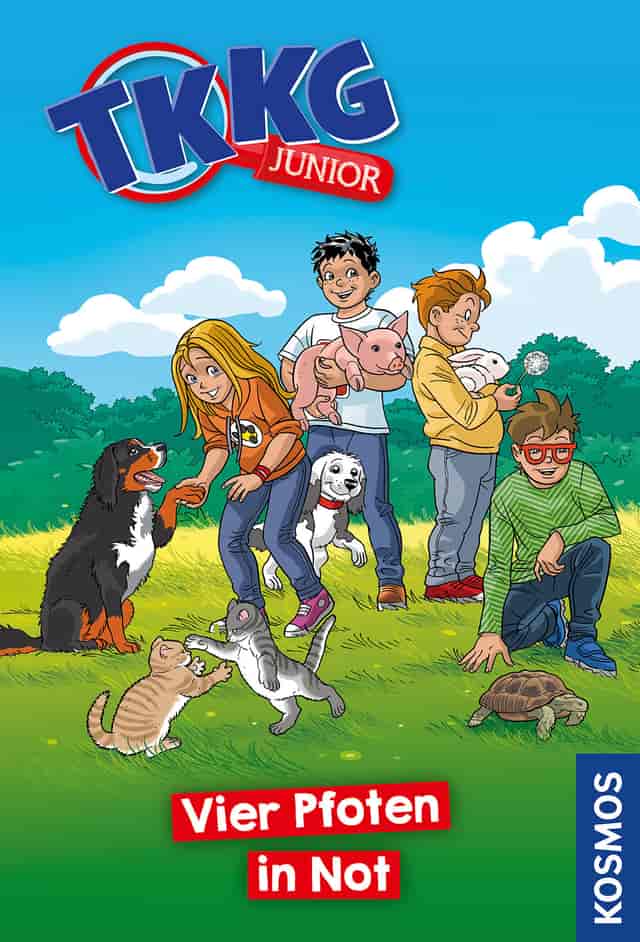 A classic, reliable, criminal fiction series 🔎, following the lives of four young friends, as they solve cases in their city.
Also useful, is the audio play series available, for those who'd like to improve their German listening comprehension.
If crime fiction is particularly interesting to you, you might want to check out our list of German crime fiction books.
12. Als ich mit Hitler Schnapskirschen aß
This critically acclaimed book sets out to capture a particularly tense time in German history, stretching between the GDR period and post-reunification, and regarding the growing presence of radical right-wing youth groups in East German provinces.
It describes the experiences of Mimi, whose relationship with childhood friend Oliver slowly disintegrates as he involves himself more and more in a violent, right-wing youth gang.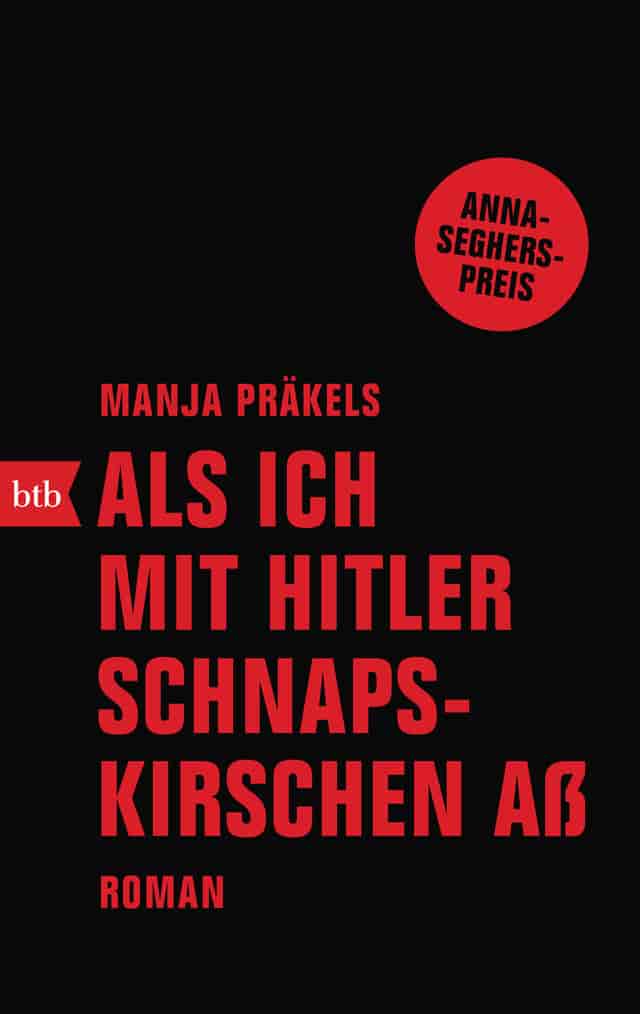 Als ich mit Hitler Schnapskirschen aß
Manja Präkels
A book about the experiences of a teenage girl living in East Germany, as her childhood friend involves himself more and more in a violent, right-wing youth gang.
Interesting note for language learners: Mimi's voice in the novel is intentionally crafted with the use of simply constructed sentences and terms from the local dialect and youth culture.
13. Tintenherz
Mo, a bookbinder, and his young daughter Meggie both share a passion for reading.
When they are warned about a man determined to get his hands on a certain book in their possession, the family flees with the desired object held close.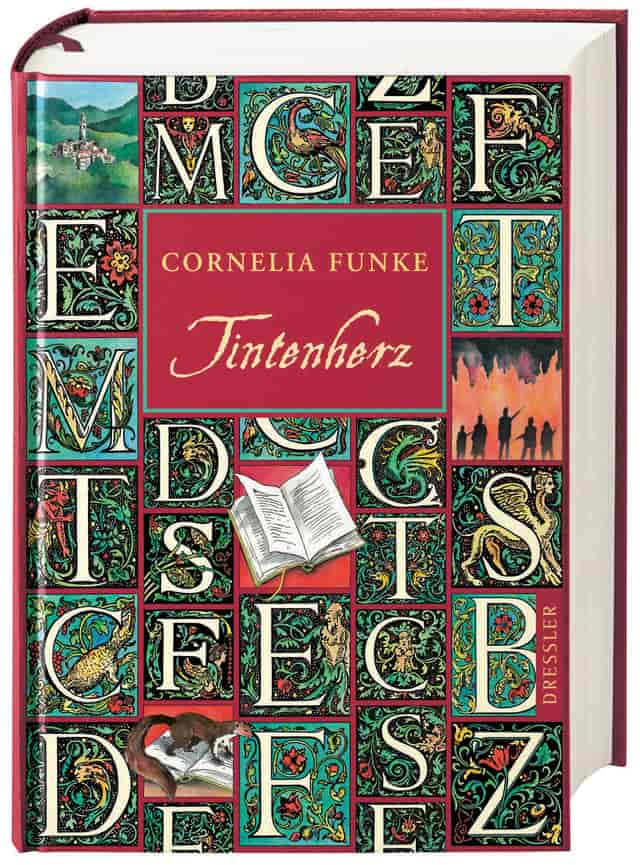 A story filled with adventure and more than a little magic, Meggie and her father Mo resolve to retrieve a stolen book from one of its own characters, who - along with a few others - has been magically pulled out of the pages, and into the world of real life.
Despite their efforts to hide, however, the book is ultimately taken from them. In an effort to explain the situation, Mo then shares with Meggie a secret that changes her life forever, before they set out to retrieve the stolen book.
14. Als Hitler das rosa Kaninchen stahl
This novel is the first of a trilogy of semi-autobiographical novels, by German-born british writer, Judith Kerr.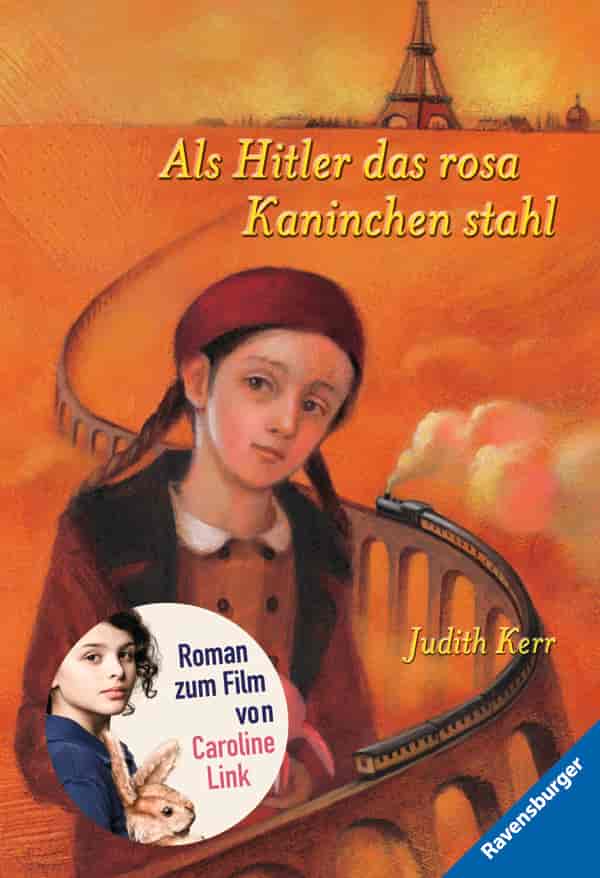 Als Hitler das rosa Kaninchen stahl
Judith Kerr
in 1933, nine-year-old Anna and her family must flee Berlin, to escape the Nazi regime, which has just come to power. The story tells of her experiences, as she travels from country to country, in search of a new home.
The story is set in 1933, and follows the unpredictable life of nine-year-old Anna, who flees her Berlin home with her family, as Nazism comes to power. As refugees, they travel across Europe, passing Switzerland, then Paris and ultimately settlling in England.
15. Blueprint – Blaupause
This story centres on Iris Sellin - a profoundly gifted pianist, who, after being diagnosed with multiple sclerosis, decides to clone herself in an effort to keep her talent alive for longer than she herself - given her sickness - could manage.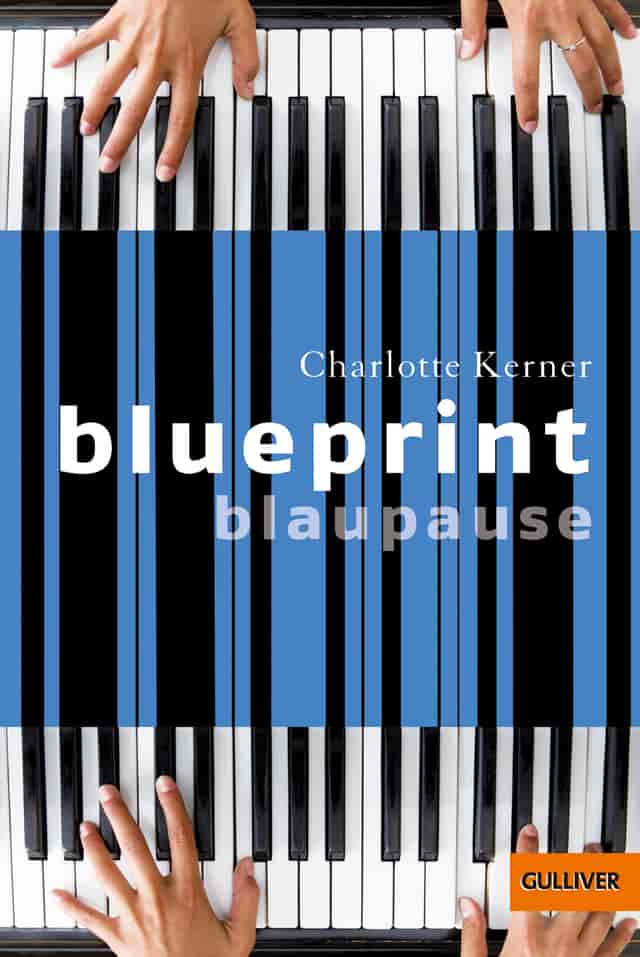 Blueprint – Blaupause
Charlotte Kerner
When Iris Sellin decides to clone herself in order to keep her musical talents alive, she neglects to consider whether the clone - whilst possessing the same gifts and talents as her - would have the same dreams and desires, and things don't go to plan. A thought-provoking novel about the ethical implications of human cloning.
But when her daughter finds out that she is, in fact, her mother's clone, she's dismayed by the realisation, and struggles against her mother's grasp.
Exploring the ethical implications of human cloning, this children's book is full of thought-provoking material to chew on.
Honorary Mentions
The next two books are also children's books, of course, but they'd fit better into the category of picture books and feel also, to be totally honest, a little bit dated. So consider these honorary mentions.
The fact that every child in Germany has one of these on their shelves wanted us to include them here. They're also very interesting books from a cultural (and historical) perspective, and are still surprisingly easy to read.
16. Struwwelpeter
These two story books are particularly curious, in that they are both known for graphic depictions of violence in both their illustrations and texts, despite being written for children.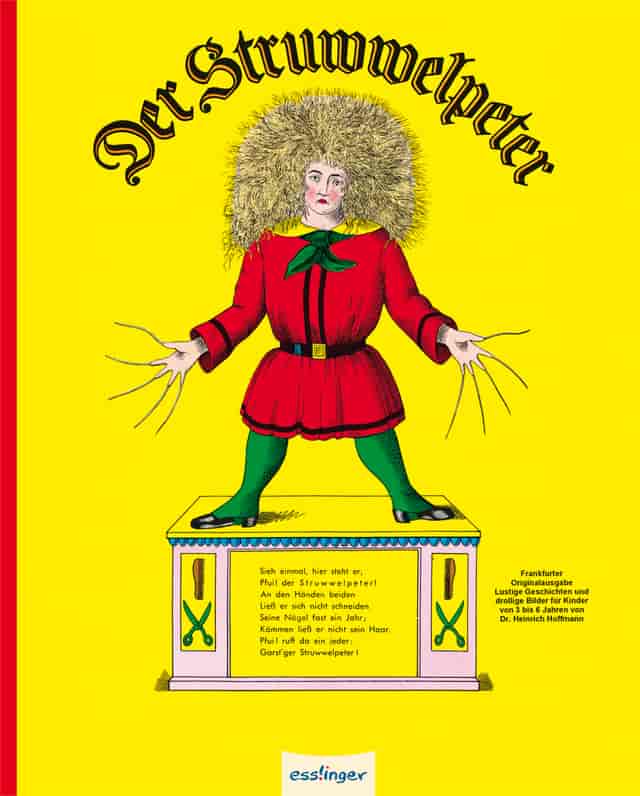 Struwwelpeter
Heinrich Hoffmann
In this 19th Century moral storybook, Struwwelpeter explores the bad behaviour of a number of children, the consequences of which they suffer being particularly gruesome ✂️.
The Struwwelpeter is divided into ten separate little tales, each describing a different child's naughty behaviour, and the gruesome consequences that follow, usually ending in death. Flicking through this book made us wonder whether it's truly a children's book or whether we should have included it in our page on German horror & ghost stories
17. Max & Moritz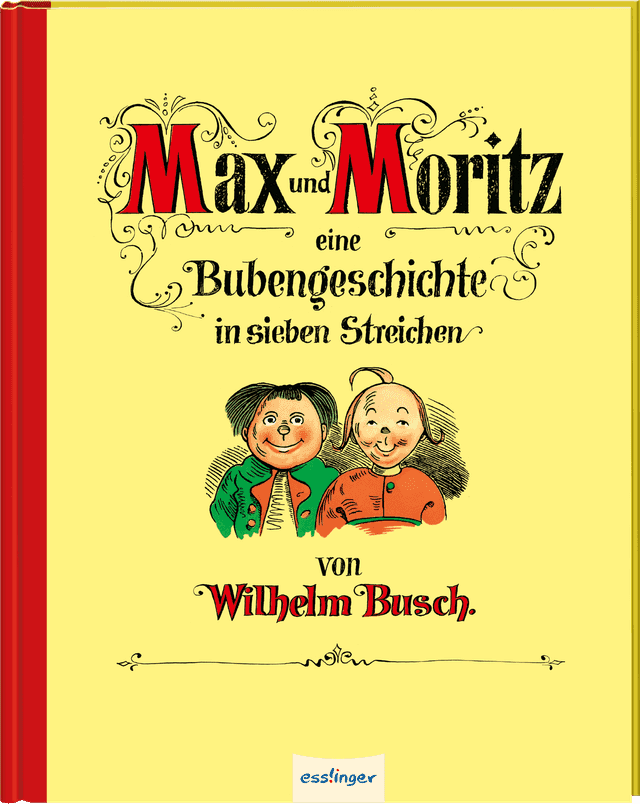 Max und Moritz
Wilhelm Busch
Max und Moritz follows two particularly cheeky boys who won't stop troubling their neighbours, until they meet their terrible fate ☠️.
Max & Moritz, on the other hand, follows the mischievous adventures of two little boys who wreak havoc on their neighbours, including the teacher, the baker and the widow, until they're terribly punished for their cheekiness.