Romantic German Phrases
Terms of Endearment & Flirty Phrases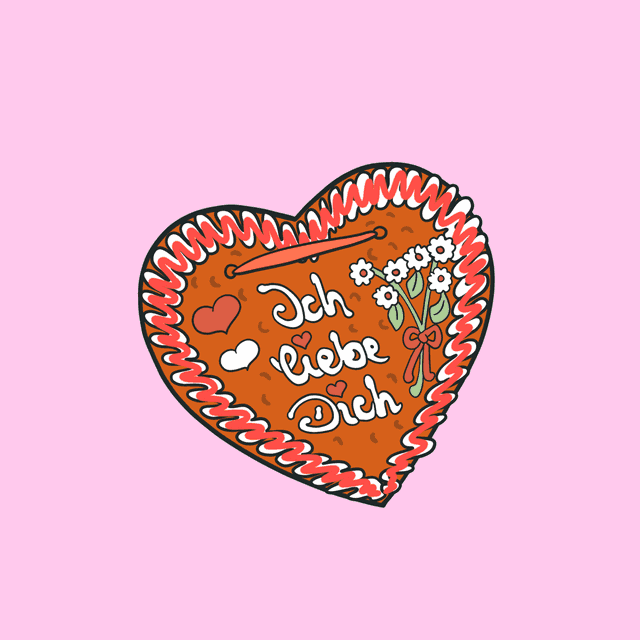 ---
With Valentine's day just around the corner, we thought that we would publish a love-related post this week with some romantic German phrases.
1. Romantic German Phrases
Let's start with the most casual way to say "I love you" in German and then move on to more romantic and even seductive German love phrases. Ready?
1. I love you [Casual Version]
This is an expression you may use in a casual way, for friends and family and lovable pets. It's the "love you!" you may tell your child before you end a phone call, or what you may say to your dog when he comes to you for a cuddle.
You may, however, also use it as a serious way to express your love for somebody, as long as it's platonic. For example, you may want to tell your mum you love her on her birthday, or say it to your best friend.
In these cases, you could say Ich hab' dich lieb.
2. I love you [Romantic Version]
Ich liebe dich literally means "I love you", and is primarily used between partners in a serious, romantic relationship.
It's a strong expression of feeling and commitment, and language learners should be wary of the difference between Ich habe dich lieb, which is casual and affectionate, and Ich liebe dich, which is intimate and romantic.
3. You're the love of my life
The most serious and dramatic expression of the three here, "Du bist die Liebe meines Lebens" translates as "You are the love of my life".
It is an expression reserved for the more sentimental or lovestruck among us, and isn't commonly heard in public but rather in the private and intimate conversations between couples who believe they have found "the one" in each other.
For more love related articles, why don't you check out this list of 5 German romantic comedies.
2. Seductive German Phrases
You're still here? Was this not romantic enough?
Those phrases were romantic and beautiful you say, but more geared towards couples who ... wait, why are you talking about your grandparents now?


Du bist die Liebe meines Lebens.

---
You want something spicier?
More passionate?
You want something to say to your crush?
Seductive?
Let's see what we've got ...
1. I am crazy about you
Let's start with a crazy one. Literally. How would you say "I am crazy about you" in German?
Try not to say this when you've only just met the person or when you're on the phone talking to customer service. That would be a bit creepy. So wait a while. This is heavy stuff.
2. I love your smile
3. You have beautiful eyes
Ok this next one has a pretty high cheese factor. If you deliver this badly, it might come across a bit ... well, cheesy.
It's still a beautiful thing to say though and when it's genuine, it can be really romantic:
Of course, also make sure that the person you say this to is called Julia. Otherwise, it might not have the intended effect!