Weird German Words
15+ Eccentric Words That Don't Exist in English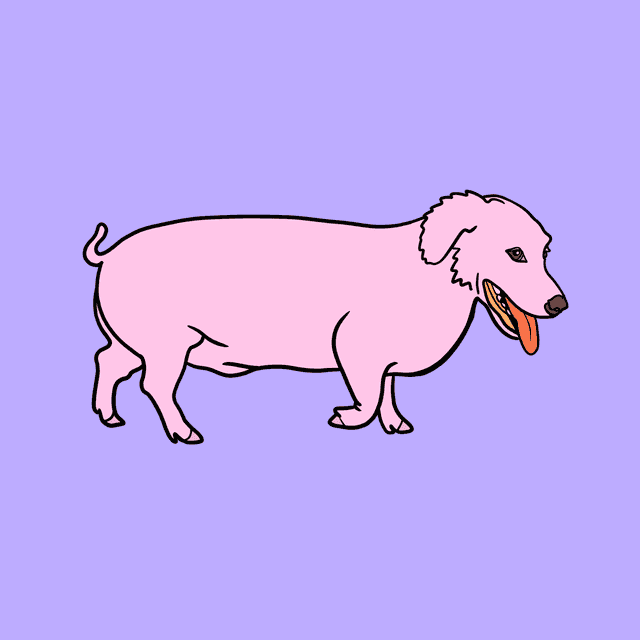 There are a ton of funny German words that seem straight-up weird. This is because in German, words can be combined very easily in order to form new ones. Those kinds of words are called compound words. Those made up German words can seem really funny, because they often sound so very artificial to learners, or people not used to the language.
I'm sure you will, or already have, come across some of these expressive little jewels of the German language as you continue learning, which you can use yourself to decorate your sentences, just as a native speaker might.
If that's something that may interest you, here is a list of such words and phrases, with example sentences and audio, to give you something to start off with!
Der Kummerspeck
You know that friend that just broke up with his girlfriend and has done nothing but eat donuts and nutella from the jar for the past two weeks, whilst watching The Notebook on loop?
Well the weight that he may have gained during this time is called "Kummerspeck", in German. "Kummerspeck" is used to refer to extra kilos put on due to any type of emotional eating brought on by stress, whether from a break up, stress at work or at home.
Sich Fremdschämen
Have you ever gone to a bar with friends, and watched one of them make a fool out of himself whilst trying to flirt with somebody, which made you squirm with discomfort, as if you were experiencing the same feeling of embarrassment your friend did? There's a name for that feeling in German, and it's "sich Fremdschämen" - the feeling of cringe-y shame one may feel for another in the middle of an awkward or embarrassing situation (as perceived by the viewer). Often, the expression is used to describe situations in which the embarrassing person doesn't seem to think they are being embarrassing themselves, but can also be used in situations where both the doer and the viewer feel shame.
Der Kabelsalat
This term is a pretty specific one, that is used for the messy, tangled nest of laptop, printer, telephone and coffee machine cables that you may kick behind the office tables, in order to hide from plain sight and escape the wrath of your organised and tidy business partner. In other words, "Kabelsalat" is a rather poetic word for a deeply unromantic knot of multiple cables.
Der Weltschmerz
You may, throughout your life, have experienced a feeling of melancholy or weariness whilst thinking about the suffering and pain brought about in the world. For example: for many people, thinking about the effects of climate change can be overwhelming and quite depressing. This type of sadness is referred to, in German, as "Weltschmerz", and may even be used to describe a general feeling of weariness in life.
Die Torschlusspanik
In order to avoid "Torschlusspanik", make sure to actually organise and carry out the plans you make when moving to a new country. If you decide to leave one day and haven't done all the things you wanted to, you may end up frantically pressing all those plans into the last few weeks you're there, before leaving forever. This state of panic is characterised by quick decisions and courses of action urgently made to combat the feeling of "being too late", as one figuratively watches a door close in one's life. Somebody marrying quickly because they feel, for whatever reason, they are running out of options, is an example of a decision driven by "Torschlusspanik". Another may be hurriedly deciding to have children once realising that one is nearing an age where conceiving children becomes significantly more difficult.
Das Fernweh
Due to the corona pandemic, many haven't been able to (or felt confident to) travel over the last couple of years. For those who love to travel, the yearning desire to be somewhere other than home; in some distant and curious place, ready to be explored, can be referred to, in German, as "Fernweh".
Das Reisefieber
Whilst the word "Reisefieber" can be used to refer to the yearning to travel, as is the case with the word "Fernweh", it can also be used to describe the nervous excitement one may feel just before travelling. So next time you catch yourself repacking your suitcase for the third time, the night before your flight, giddy with excitement but worried you might forget something your fabulous holiday just can't miss, you now know that you are experiencing Reisefieber!
Example use cases:
Das Backpfeifengesicht
Do you know anyone who has a face just ready to be slapped silly, with two large fish? Someone who really deserves it? In German, you may say that such a person has a "Backpfeifengesicht". Of course, you would only use this expression to suggest that somebody, in theory, is deserving of a slap. You wouldn't use this term before actually slapping somebody. Violence is not the answer.
Example use cases:
Der Ohrwurm
Imagine that you are studying at the library. Everyone sitting around you is silently getting on with their work… everyone except that one guy behind you, who is humming "Jingle Bells". He's been humming it for the last twenty minutes. By the end of it, you've never hated the jolly song so much in your life. What that guy had is called an "Ohrwurm", in German - when a song gets stuck on loop in someone's head, sometimes resulting in a lot of annoying humming or singing. The term can also be used to describe a particularly catchy song.
Example use cases:
Der Innere Schweinehund
When we give in to our "Innere Schweinehund", or "Inner pig dog", we choose to be defeated by a lack of willpower to accomplish something. When we decide to procrastinate rather than work hard on our final school projects, when we hit snooze on the alarm until the last minute before running to work, when we give up on a craft project before ever really beginning it… we give in to our "Innere Schweinehund". In order to overcome it, we must be driven by our motivation and self-discipline. So next time you see a friend slowing down on a project and want to give some encouragement, you may say: "Komm schon, Nicole! Überwinde deinen inneren Schweinehund! Du schaffst es!"
Example use cases:
Die Erklärungsnot
There's a feeling of panic one experiences specifically when caught red handed or in a suspicious situation - a certain panic and pressure to explain oneself. It rises up when your friend suddenly finds out that you've been lying to her for months, when you are caught in bed with the postman, or when your Dad questions the crumbs on your cheeks after the last cookie meant for Grandma has gone missing. That initial red-hot stress and flustered hurrying to think up a reasonable explanation is called "Erklärungsnot", in German.
Example use cases:
Der Zungenbrecher
On your German-learning journey, you may find it helpful to learn a few German tongue twisters. In order to clearly and quickly say them, one must practice clear enunciation, which may help to improve your ability to skip through words with ease and develop a smooth flow whilst conversing. The German word for tongue twister is a little more brutal - "Zungenbrecher", or "Tongue Breaker". If you haven't had a go at one yet, how about trying this one out: Der froschforschende Froschforscher forscht in der froschforschenden Froschforschung.
Example use cases:
Das Kopfkino
You're sitting in class, staring out the window in search of any form of entertainment - be it a busy squirrel, or a bag rolling in the wind - literally anything to stimulate your mind beyond the monotone speech Mr. Smith is giving about the new school year, when the new boy walks through the door. You cannot believe your eyes. He is… g.o.r.g.e.o.u.s. Instantly, you lose yourself in a daydream, imagining him introducing himself to you nervously, holding hands, telling him there's no milk left in the fridge with your second born child on your hip. You're completely lost in the fantasy. Well, in German, there is a fitting term for these sudden and intense daydreams - "Kopfkino".
Example use cases:
Der Treppenwitz
Have you ever had the opportunity to make a witty joke, but thought of it a moment too late, because the conversation has already moved on, for example, or because you have already passed the person on the stairs? Or have you ever been shouted at by a drunk on the bus, and, frozen in shell-shock, only thought of a scathing reaction to his rudeness once he'd already gone? Well, this type of situation has a name in German: "Treppenwitz".
Example use cases:
Die Schadenfreude
Have you ever watched an old man fall over and giggle to yourself at how funny it is? Hopefully not. Hopefully you're not an asshole. However! Many of us are guilty of experiencing secret (or not) joy at the misfortune of others in some way. For example, watching the class bully finally get caught red handed by a teacher, or beating your long-time rival at table tennis. Schadenfreude can be associated with feelings of 'justice served' or of superiority, and may be either reasonable, or a sign of envy or insecurity.
Example use cases:
Die Schnapsidee
Have you ever had a genius idea during a boozy night out with friends, only to admit the next morning that it was, in fact, quite terrible? Here's an example of such an idea: thinking it would be fantastic to ring up your ex boyfriend in the middle of the night, to tell him that he's still an idiot, your slurred words interspersed with champagne bubble burps, only to regret it the next day. Well this sort of idea is called a "Schnapsidee" in German - a seemingly brilliant idea concocted under the influence of something confidence-boosting, such as alcohol or drugs, that ends up being quite the opposite.
Example use cases:
Der Katzensprung
When something is just a stone throw away; a short distance away, then it is just a "Katzensprung" away. You may use this expression when describing a literal distance, such as that between your home and the next corner shop ("der Späti ist nur einen Katzensprung entfernt"), or figuratively, such as that between where you are now and what you have to do to achieve a goal ("Sie sind nur noch einen Katzensprung davon entfernt, Ihr Ziel, nach New York City zu ziehen, zu erreichen, Sandra!").
Example use cases:
Eine Extrawurst bekommen
Imagine this scenario: you're sitting at the table with your siblings and parents. Your mum is whipping up a feast of sausages and potatoes. Everybody gets a sausage each. Everybody except one of your siblings, who is offered two. How unfair! Why should that sibling be given special attention? In Germany, when somebody receives an extra sausage, or "eine Extrawurst bekommt", it means that somebody is being given special treatment. It is usually used in order to criticise somebody's unfair behaviour towards others, or someone expecting to receive special treatment.
Example use cases: