German Learning Websites
8 Great Sites For German Learners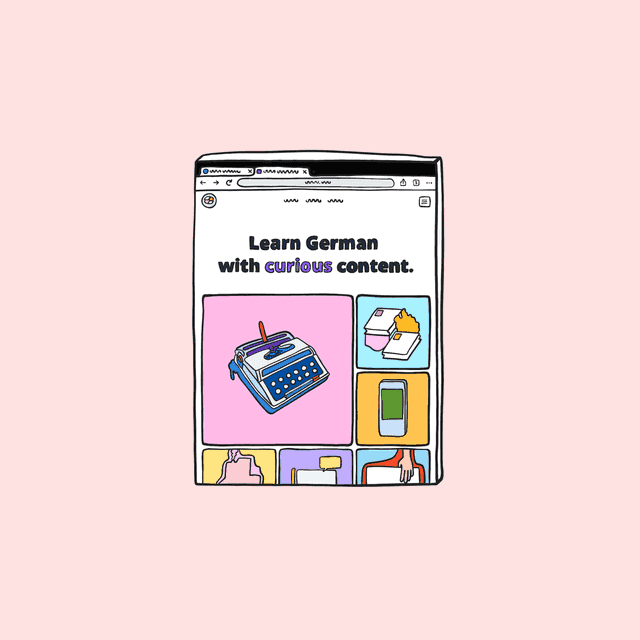 Why Learn German With Websites?
Learning German through websites can be an effective and convenient way to acquire language skills. Online platforms provide access to a wide range of resources, interactive tools, and authentic content to enhance your learning experience. Whether you're a beginner or looking to improve your proficiency, these German learning websites offer valuable resources and opportunities to practice your language skills. Let's explore the top websites for learning German and how they can benefit you on your language learning journey.
Best German Learning Websites
Here are some of the best websites to learn German:
1. Sloeful German
Well, that's us! 😱
We are a German learning website for German learners of all levels and offer a variety of lessons, grammar explanations, vocabulary exercises, and listening comprehension activities. We also aim to provides cultural insights and real-life examples to help you immerse yourself in the language.
2. Duolingo
Duolingo, a popular language-learning platform, also has a web version that offers comprehensive German courses. The web version provides interactive lessons, vocabulary practice, and writing exercises to improve your German skills.
Duolingo's gamified approach keeps you engaged and motivated as you progress through different levels. Additionally, the web version allows you to connect with other learners in the Duolingo community for language exchange and support.
3. Deutsche Welle
Deutsche Welle is a German public broadcasting company that offers a dedicated section for German learners on its website. It provides a wide range of multimedia resources, including articles, videos, podcasts, and interactive exercises.
The website covers various topics, from current affairs to culture and lifestyle, allowing you to explore German language and culture in an engaging way. Deutsche Welle also offers language courses and proficiency tests to assess your progress.
4. Netflix
While not specifically designed for language learning, Netflix can be a valuable resource for improving your German skills. By watching German movies and TV shows with subtitles, you can immerse yourself in the language and improve your listening comprehension.
Netflix offers a growing selection of German content, including popular German TV shows and films. You can switch the audio and subtitles to German, allowing you to practice your listening and reading skills simultaneously.
5. italki
italki is an online language-learning platform that connects learners with native German speakers for one-on-one language practice. The website allows you to schedule virtual language lessons with qualified tutors or language exchange partners.
Through personalized lessons and conversations with native speakers, you can improve your speaking skills and gain confidence in using German in real-life situations. italki offers a flexible and interactive learning experience tailored to your specific needs.
6. Tandempartners
Tandempartners is a language exchange website that helps you find language partners for practicing German. It allows you to connect with native German speakers who are learning your native language.
Through language exchange sessions, you can practice speaking and listening skills with a language partner who can provide feedback and guidance. Tandempartners offers a supportive community and an opportunity to learn from native speakers while helping them with their language learning journey.
7. Goethe Institut
The Goethe Institut is a renowned cultural institution dedicated to promoting German language and culture worldwide. Their website provides a wealth of resources for German learners, including online courses, practice exercises, and cultural insights.
The Goethe Institut also offers internationally recognized proficiency exams that can assess your language skills and provide certification. Exploring the Goethe Institut website can give you access to high-quality German learning materials and opportunities for cultural immersion.
8. Lingoni
Lingoni is an online platform that offers German courses taught by experienced language tutors. The website provides structured lessons & interactive exercises to help you improve your German skills. Lingoni's courses cover various proficiency levels and cater to different learning styles. The platform's emphasis on practical language usage and real-life conversations enables you to apply your knowledge in meaningful ways.
Learning German through websites can be a flexible and accessible approach, allowing you to learn at your own pace and access a wealth of resources.
Whether you choose websites like Sloeful German and Deutsche Welle for comprehensive lessons, Duolingo for interactive practice, or platforms like italki and Tandempartners for language exchange, these websites provide valuable tools and opportunities to enhance your German language skills.
So, dive into the world of online German learning and embark on your language learning journey today!